FOMO Models Redesign
Redesigned a modelling agency website.
FOMO Models Redesign
OVERVIEW
FOMO Models is a casting agent and talent management company in the UK representing models, social influencers, sporting and entertainment stars. They need a new landing page and to develop other featured pages to increase website traffic while fixing accessibility issues.
Timeline
Nov 2021 - Dec 2021 (Client Project)
My Role
Problem-solving

UX Research

User Interface Design
Tools Used
Figma

Adobe Illustrator

Adobe Photoshop
Team
Sarah Jin (Designer)

Software developer
DISCOVER
What does FOMO Models want to do?
The requirements were creating a new landing page and developing other featured pages, making them modern, clear and professional, and making their core offerings easy to find.
Current Website Analysis
To understand their service and how to improve the website, we analysed the current website and spotted problems.
Problems
FOMO models website had a few issues such as:
The landing page had a poor visual hierarchy with a bunch of texts that were small and unreadable.

Lack of a clear call to action made it hard for users to navigate the website.

The article page had accessibility issues. Furthermore, the visuals were inconsistent, making the design cluttered and difficult to find what was needed.
Comparison Matrix
Our team looked at Nevs and Kult London which were strong competitors and analysed them to find out what they offered, their advantages and their drawbacks.
By looking at the competitors, We could focus on what kinds of features and functionalities FOMO Models website should offer.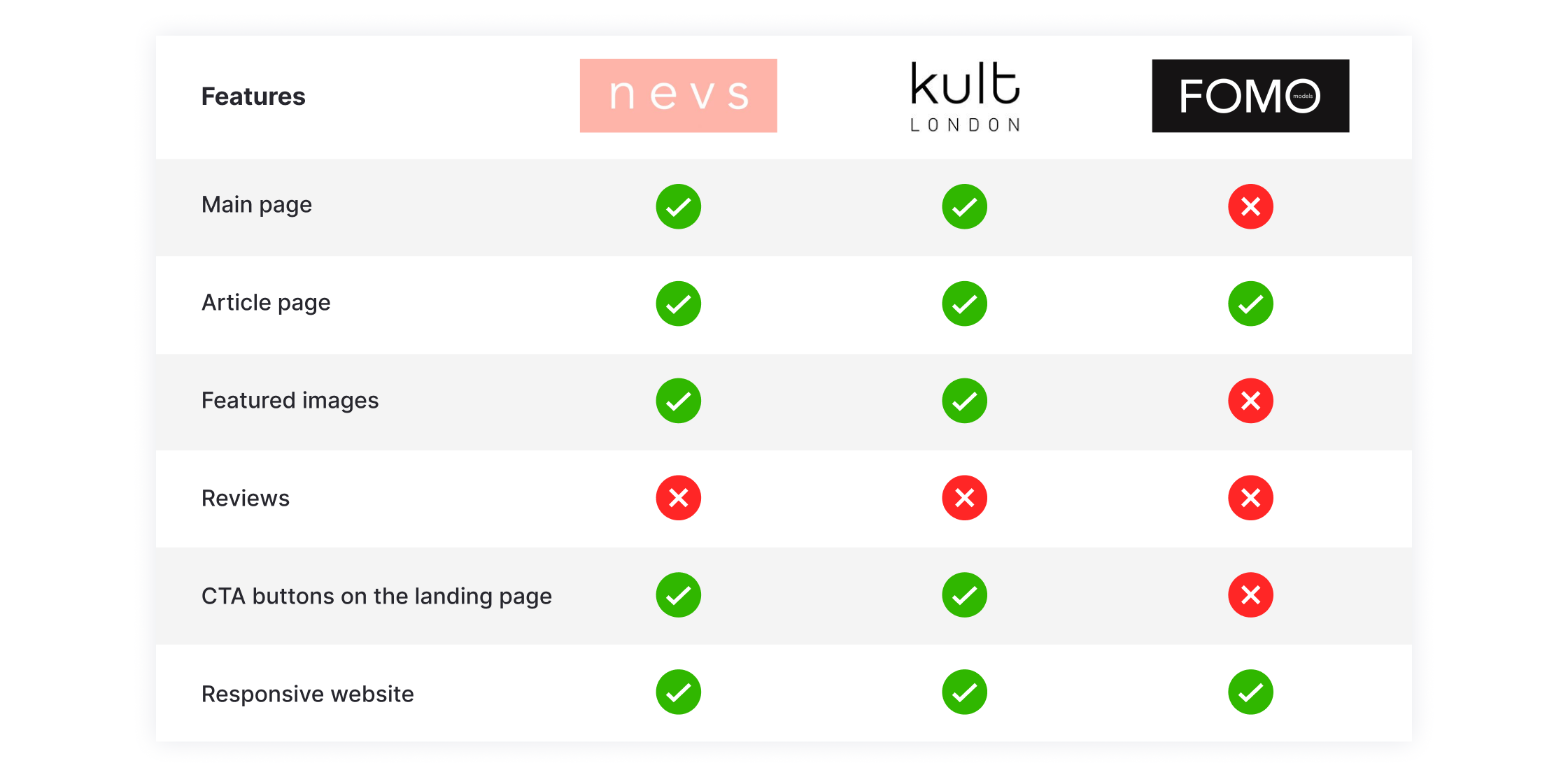 Key Solutions
Create a strong visual hierarchy while adding valuable content.

Clearly emphasise primary services and mission statements.

Keep the visuals consistent, modern, clear and professional while ensuring the website is easy to navigate.
OUTCOME
Landing page
Shown below is a side by side comparison of the old and the redesigned version of the website. The new landing page includes an improved visual hierarchy with featured images and clear CTA buttons to decrease bounce rate, which was a big pain point in the previous design. A 'Reviews' section was added to showcase past customer experiences in order to build user trust.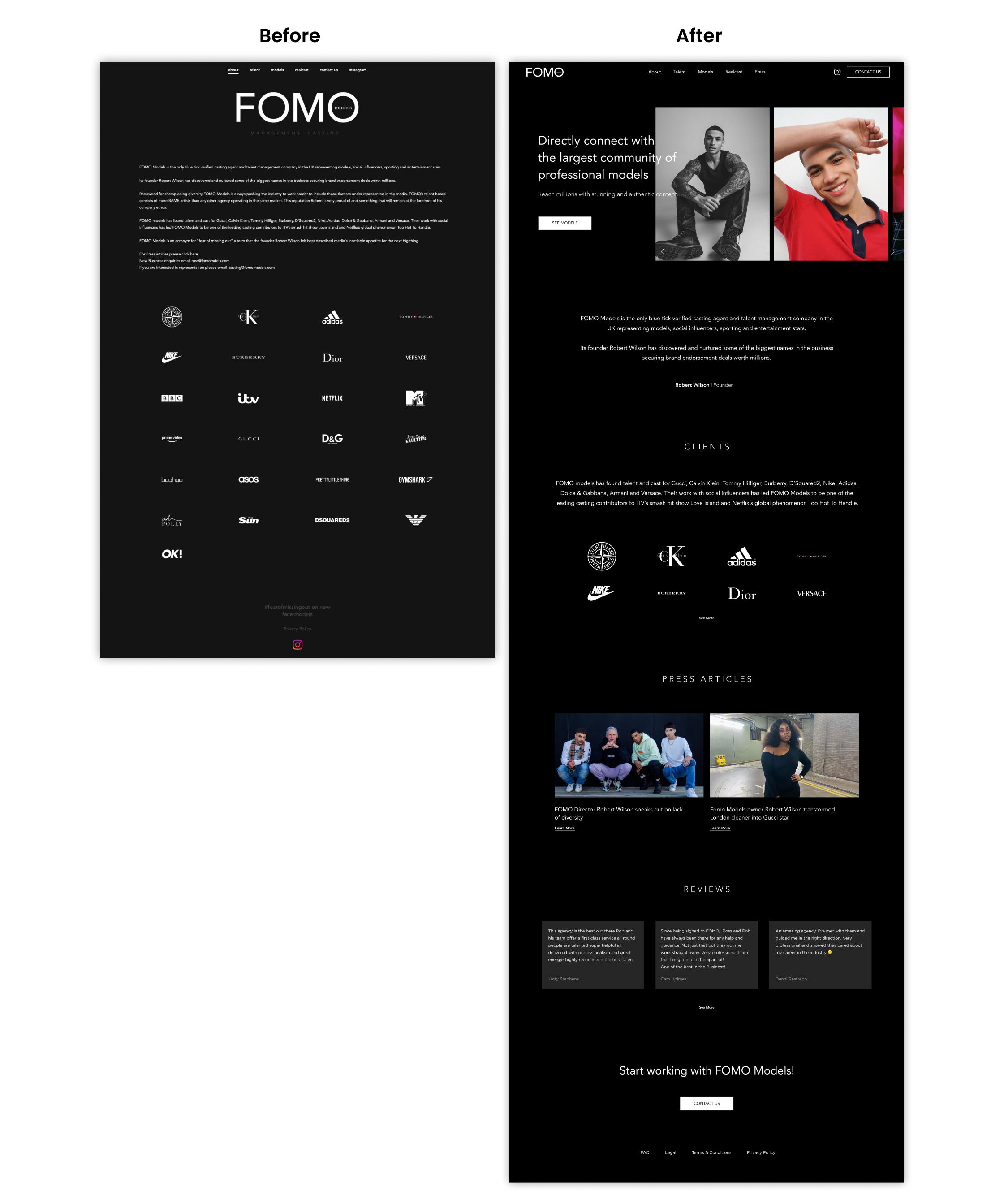 Navigation bar

A logo and an article link called 'press' were added as the client wanted to emphasise this part to increase traffic. And we created 'contact us' to a button for a strong call to action and 'Instagram' to an icon for simplifying design.

Hero Section

A new, strong hero section includes featured images with a CTA button to grab attention and convey the services provided clearly to the user. And a part of the following content is placed below so that users naturally scroll down and explore more.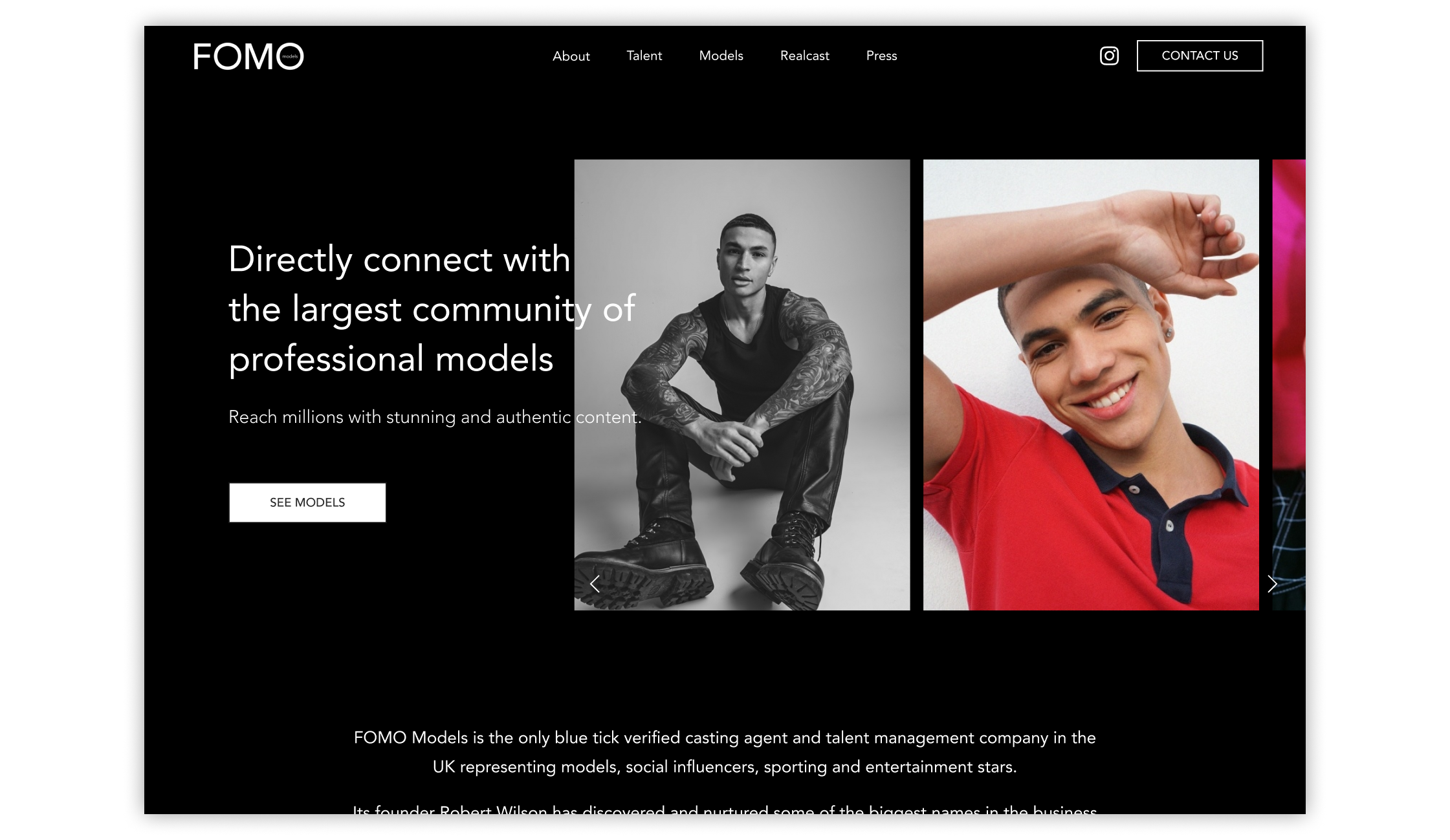 Article page
The key change is keeping consistent visuals. We organised more popular articles with a brief preview using featured images to improve an information hierarchy and a CTA button is placed on the bottom of the page to give users a clear action to take.