Dream Job CV
Designed a fast and easy online CV builder.
Dream Job CV
OVERVIEW
Dream Job CV is a service where users can create and share a responsive CV that is optimised for various types of devices, including desktop, mobile, tablet, etc. Dream Job CV helps students, job-seekers, and even experienced professionals to make customised CVs and save time.
My Role
Problem-solving

UX Research

User Interface Design

Design System

Logo Design
Tools Used
Figma

Adobe Illustrator

Miro
Team
4 Designers

Software developer
DISCOVER
Why do we build a CV builder service?
There are plenty of CV mistakes that graduates make, according to recruiters. And they are struggling to use design tools to make CVs. Our team wants to help people to make professional and customised CVs easily, as well as save time. And as the number of mobile phone users increases, we want to make our service follow this strong growing tendency towards using mobile.
Problems

Many graduates don't know how to make professional CVs

It takes a long time to edit and customise their CV

Most CVs are not suitable for mobile devices, as they are designed for desktops

Users struggle to use design tools to make their CV
Comparison Matrix
Our team identified the company's competitors and carried out a competitive analysis in the form of a feature comparison matrix. It helped us to decide on the minimum requirements and identify which features would put Dream Job CV above and beyond its competitors.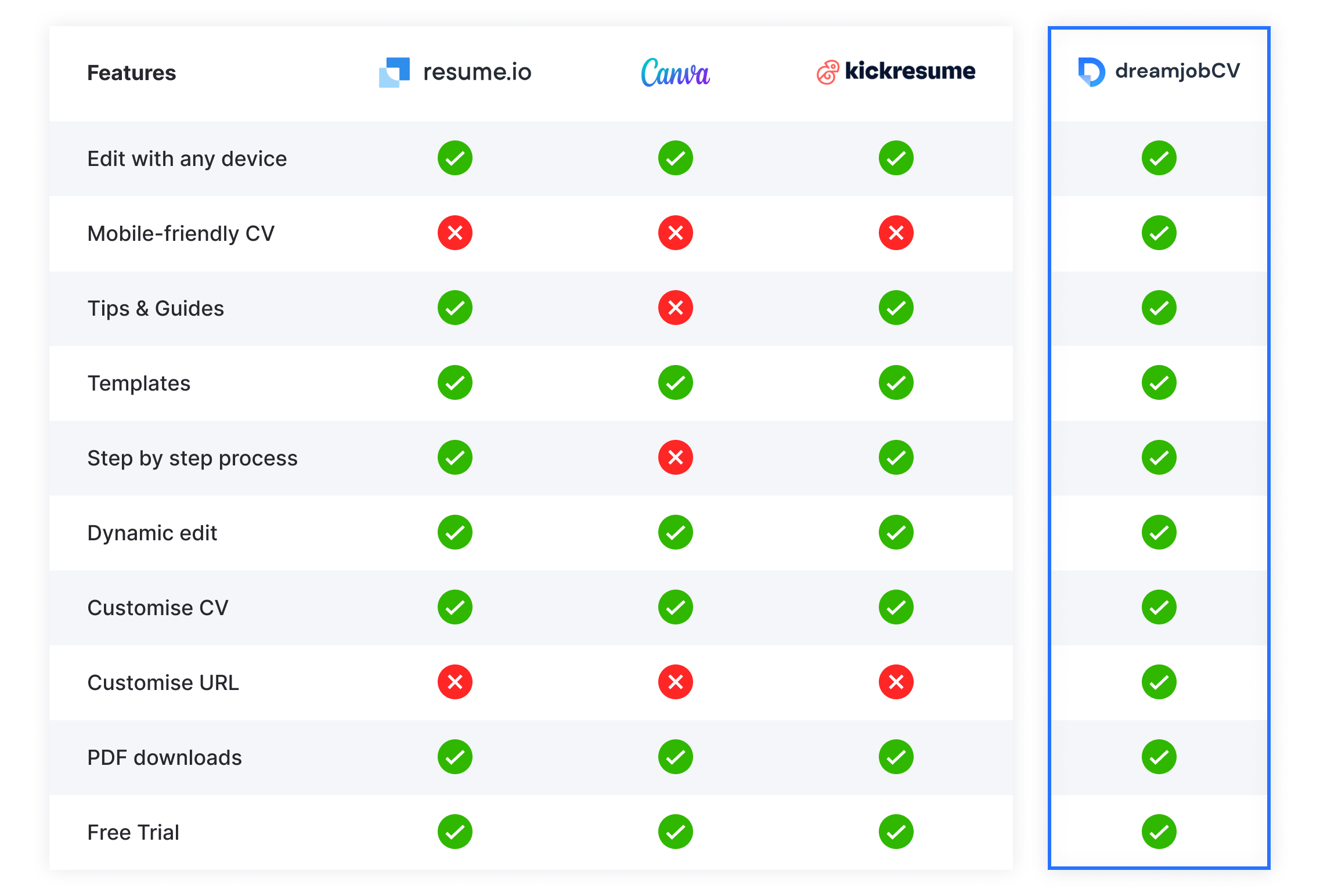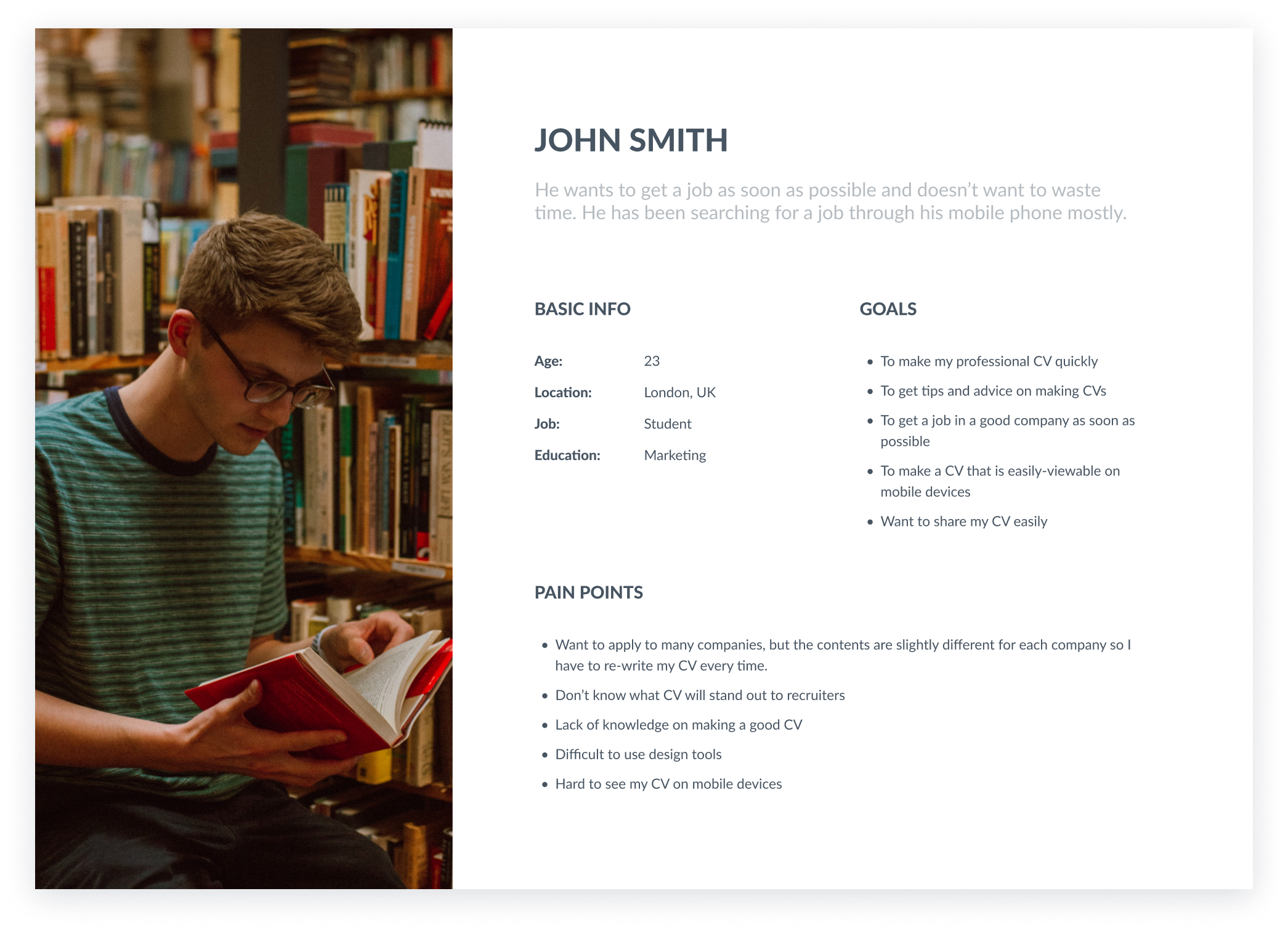 Personas
To better understand who the potential users are, Our team created personas. Putting ourselves in the shoes of the users helped me to empathise with their needs and concerns.
Dynamic editing
Editing CVs easily and flexibly
Mobile-friendly CV
Providing mobile CV layouts
More personalised
Providing a custom URL
Professional CV
Giving tips and guides to make professional CV
User Flow
After conducting research, Our team mapped out the user flow so that we could focus on the journey the user would take. A flow presents an overall picture and gives an opportunity to create a more seamless user experience.
Without Sign-up

Only being required to put email addresses without sign-up helps users to explore how this service works.

Step-by-step process

Making a CV requires inputting lots of information, so a step-by-step process helps users to not feel overwhelmed. It's smooth and seamless.

Wireframes
We mocked up a general concept of the experience and all of the process screens of this service in low fidelity wireframes.
The wireframes were also validated with engineers to make sure that the designs worked within the technical constraints of the project.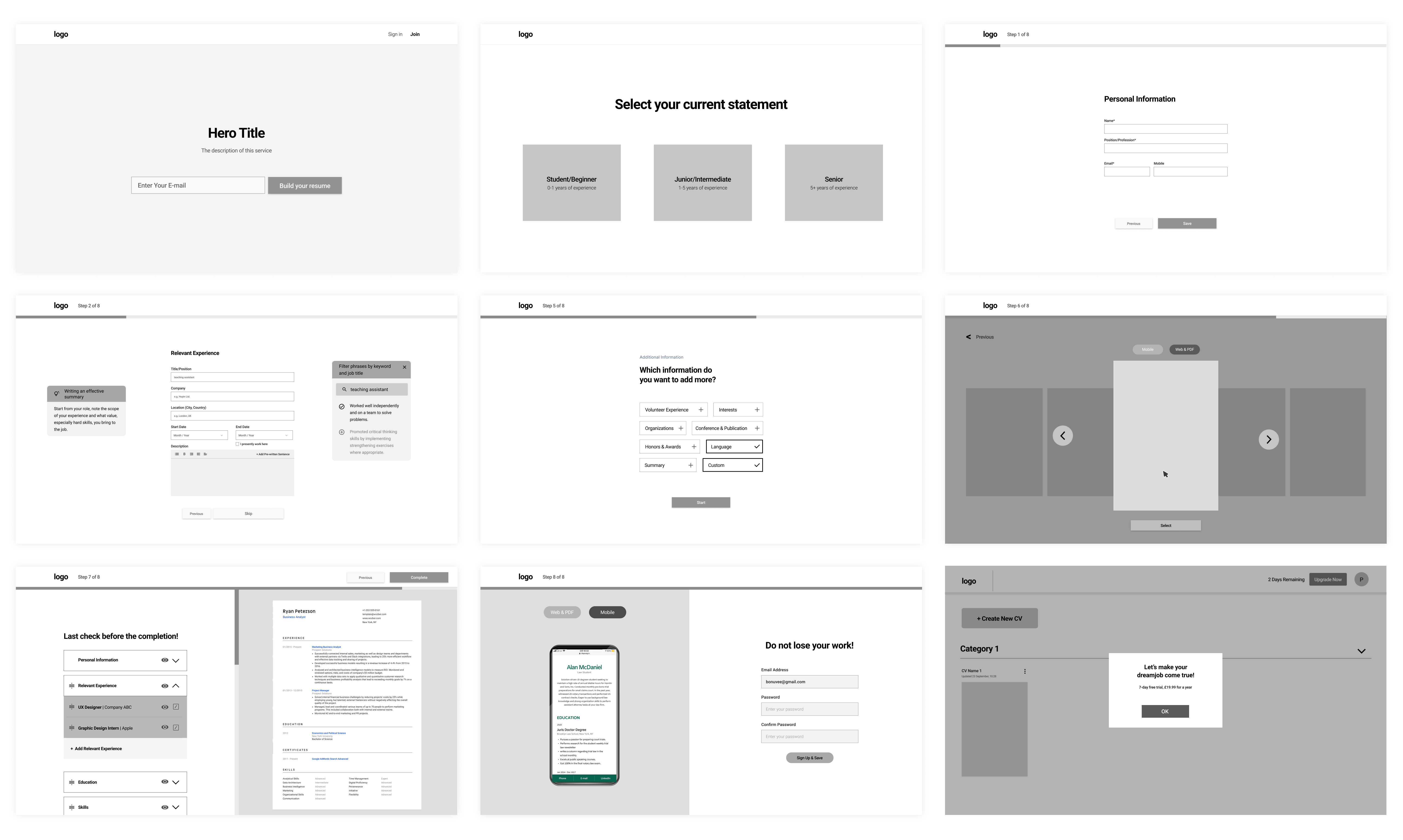 Logo Design
I was tasked with designing a logo. The logo is the combination of a sheet of paper to symbolise a CV and the letter "D" to represent the Dream Job CV brand. Blue symbolises reliability, inspiration, stability, etc.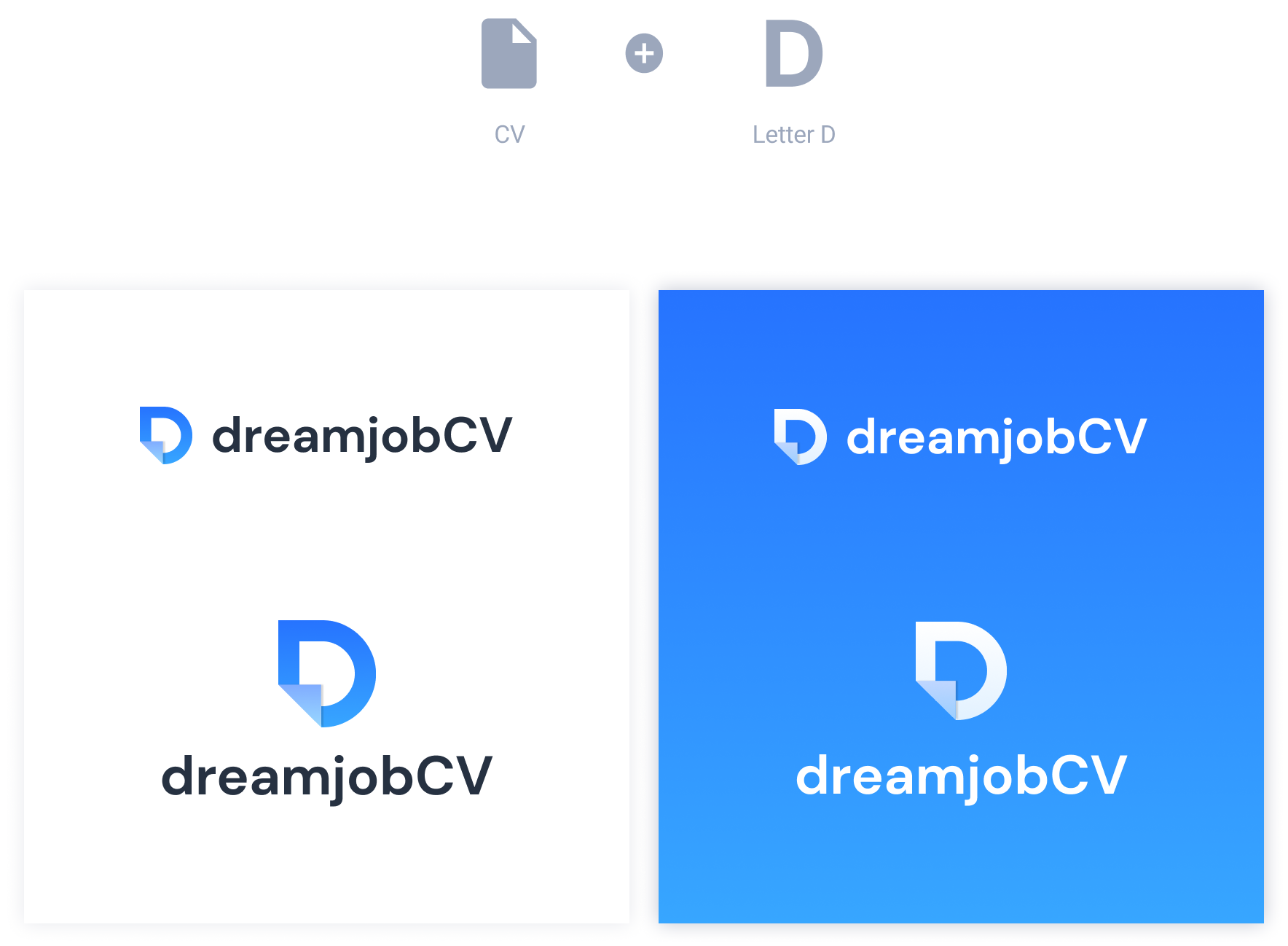 Design System
During the design process, we began to produce a design system. It was useful to engineers when it was time to hand over the designs. The system contains guidelines on typography, colour and contrast ratios, icons, navigation, buttons, etc.
CV Templates
We offer various CV templates to help users make well-designed CVs and save time.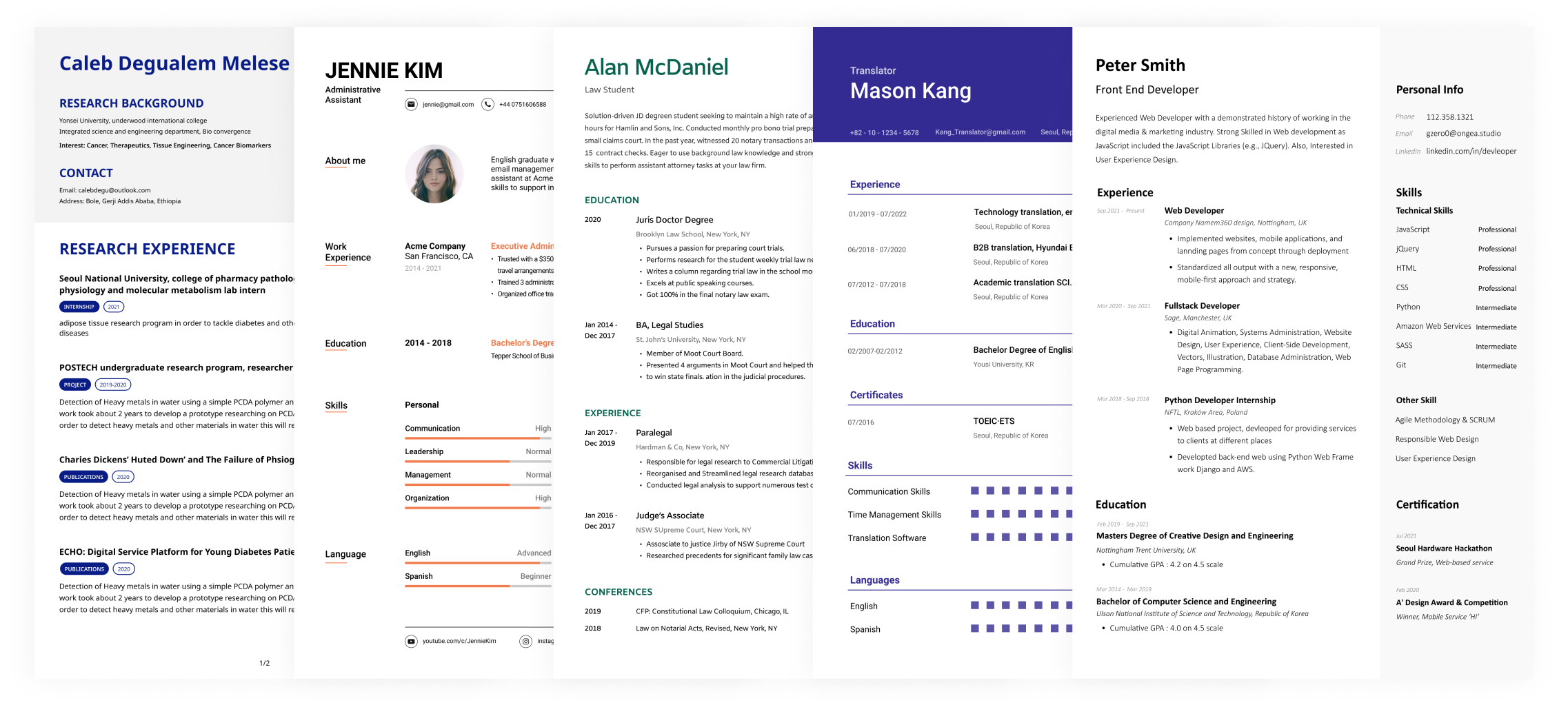 Since one of the strong USPs is a mobile-friendly CV, we created mobile layouts.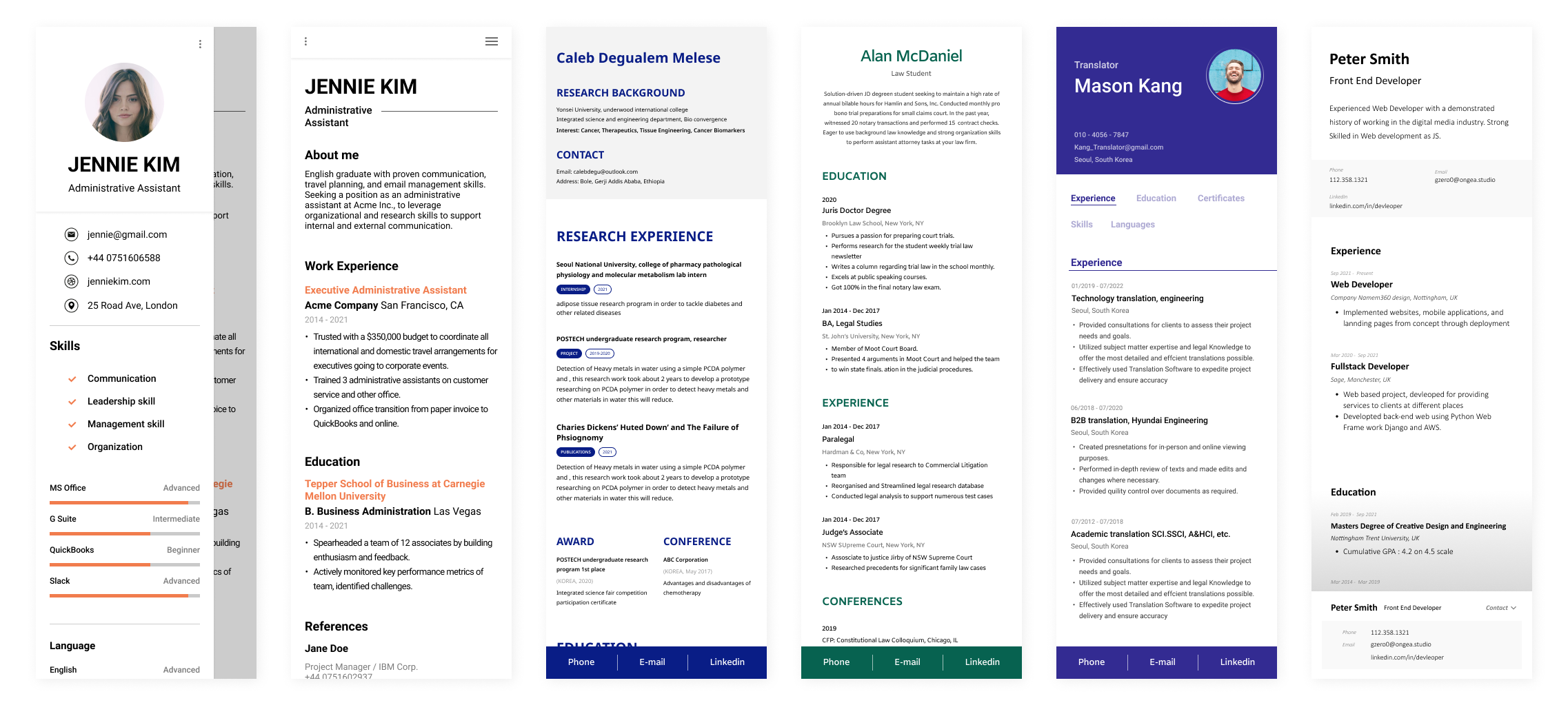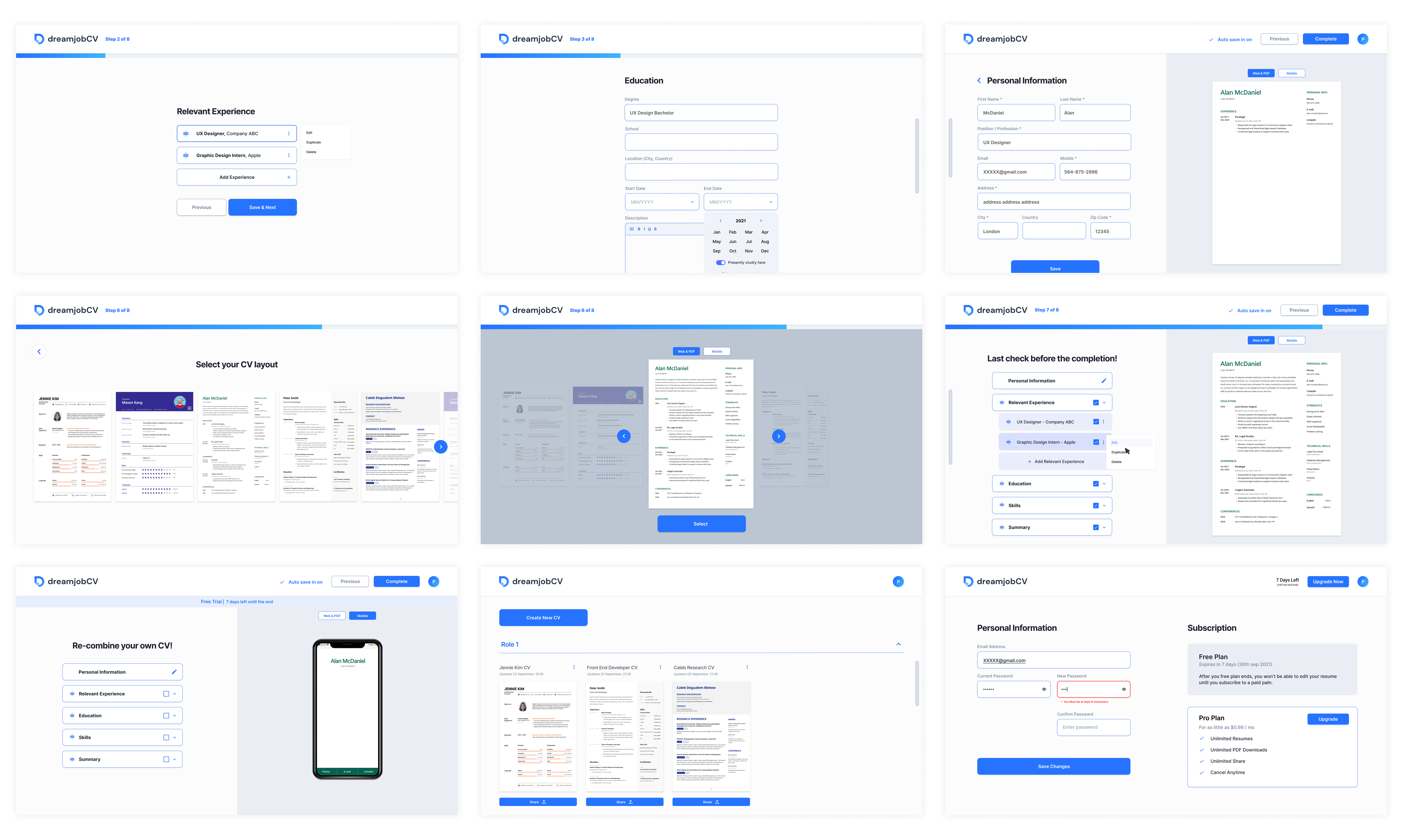 Dynamic editing
After making CVs step-by-step, users can edit CVs easily and quickly. It also saves time when they apply for other jobs that require slightly different pieces of information.
Content visibility

Each piece of content has a checkbox so that users have the flexibility to easily show or hide them.

Reordering content

Reorder icons are for users to reorder content according to their needs.
Mobile-friendly CV
We offer mobile-friendly CV layouts that are viewable on any mobile device.
Contact Information

The contact information bar is on the bottom of the screen which sticks when scrolling. It is easy to find their information and reach applicants directly.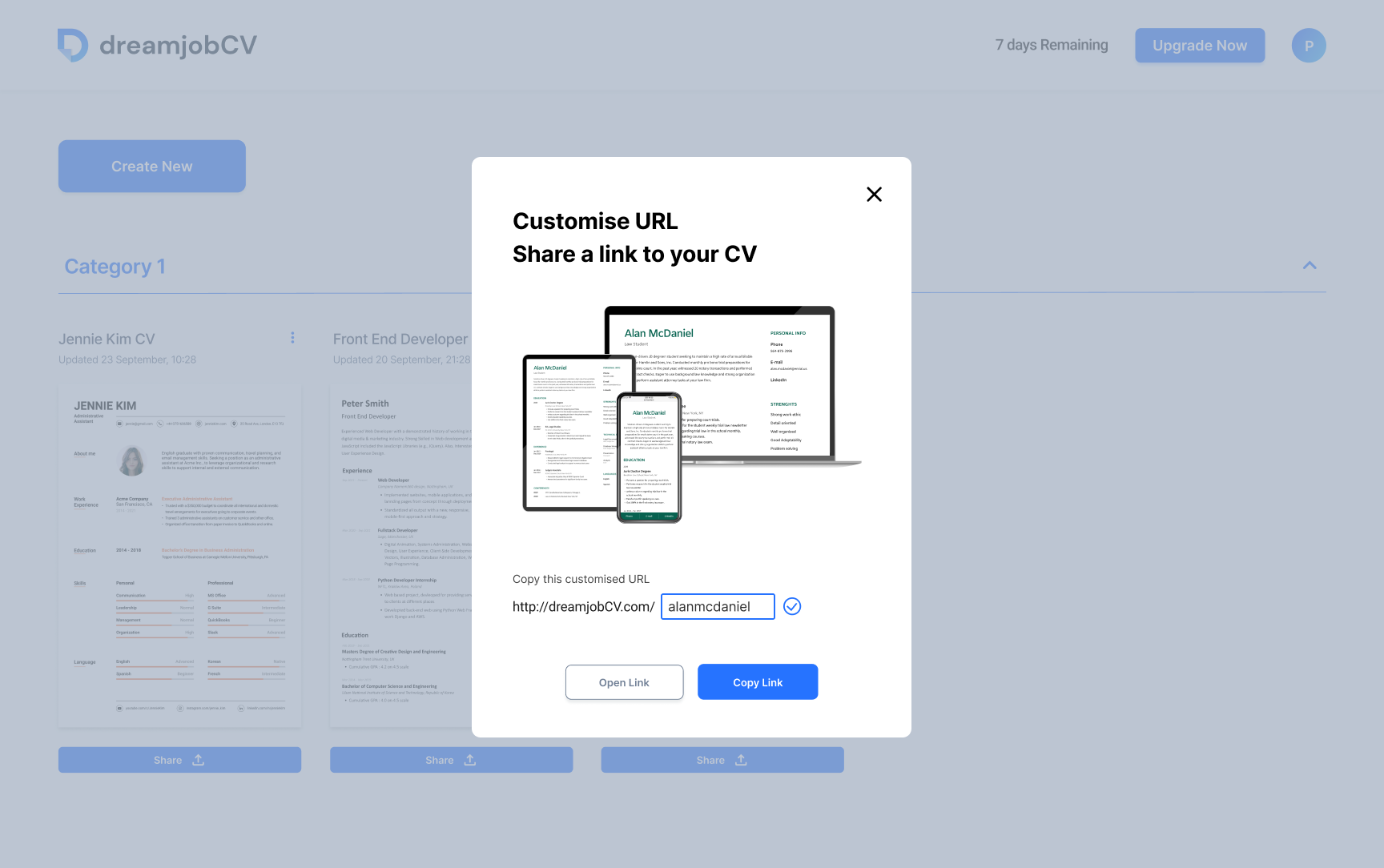 More personalised
Customisable URL

Users can customise URLs to share their CVs easily. It's a new, unique functionality. If users make URLs using their name, It will again remind recruiters of an applicants' name.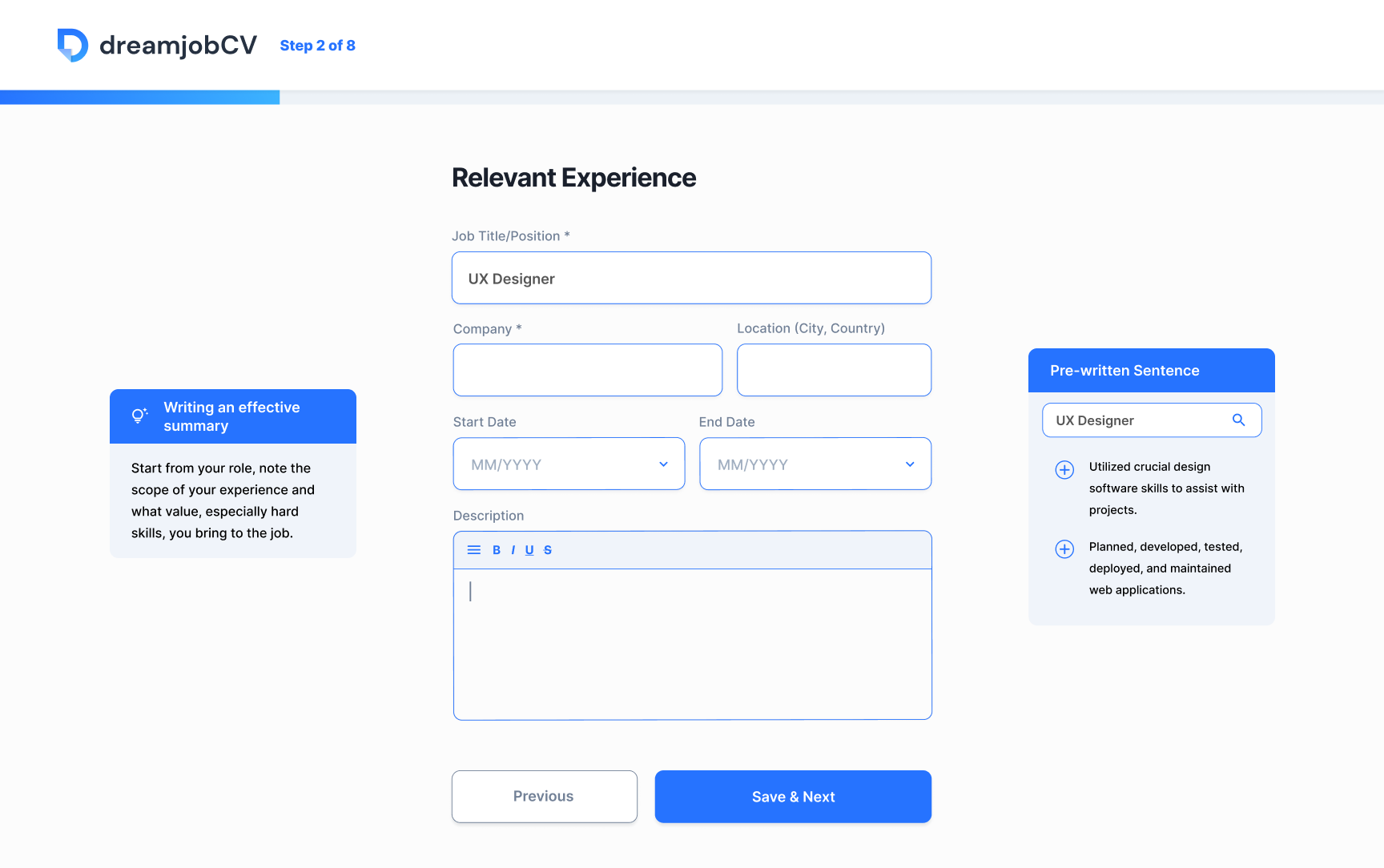 Professional CV
Tips & Guides

To help users get some ideas and make professional CVs, pop-up windows are placed in empty spaces. On mobile devices, if you tap a "tips & guides" icon, it will show up and overlay from the bottom.
What I learned
This was a really exciting and fun project for me to work on as it provided real value and involved a lot of research. I learned how to define a solid MVP and something that is simply not usable and therefore not shippable. I was especially responsible for designing the user interface and creating a design system. I learned how to lead a team for these parts and work with developers and other designers.
This product is currently in development. So there is still a lot of work to do to bring it to market and the next steps will be to test it with a small sample of beta users and design the next iteration cycles.